Two-week art exhibition showcasing seven international upcoming and established artists that will awaken visitor's perceptions by stimulating sensorial experiences, providing an entertaining ride out of everyday routine. Open daily from 10am until 6pm, Kaleidoscope runs from the 3rd-17th October 2013 in London's East End. Offering insightful events throughout the show, we aim to create a platform where inquisitive minds from all ages and cultures can exchange ideas based on experiences provoked by the artworks. The curators act as catalysts, connecting artists and visitors who can go deeper into the plural dimensions of each art piece and discover new meanings to take on to life.
Artists: Adeline de Monseignat, Alan Sastre, Ayuko Sugiura, Iyvone Khoo, José Alcañiz, Miyuki Kasahara, Steven Morgana
Curators: Manoela Bowles and Robertta Marques
Manoela Bowles – www.manoelabowles.com
Art writer and reporter,  Manoela Bowles is a permanent contributor to DasArtes magazine in Brazil. She constantly updates her website with exhibition reviews, interviews and videos. She was editor and coordinator of The Mark Magazine and worked as Research Assistant to Hans Ulrich Obrist at the Serpentine Gallery. Manoela has curated various independent multimedia art exhibitions, including II II II at Espaço Apis – Rio de Janeiro, where she is Head of Exhibitions and Residencies. Manoela holds a Masters in Art Criticism from the Autonomous University of Barcelona.
Robertta Marques – www.roberttamarques.com
Arts management professional,  Robertta Marques produced and curated a series of independent multidisciplinary cultural events while attending Art History BA studies in Brazil. She has a MA Arts Policy and Management from Birkbeck University of London and an Art Business Postgraduate Diploma from Sotheby's Institute of Art. Alongside her studies, she has consciously evolved her professional experience, working at administrative positions in both commercial and non-for-profit art organisations. She currently works as HR Assistant at the Serpentine Gallery.
Kaleidoscope invites you to lose yourself through many dimensions of abstraction where perception acts as the main medium and the viewer as a vital condition for its existence. The artworks are stimulants to open your mind and let imagination run free. Kaleidoscope is more than just the reference and relationship with the optical instrument that generates beautiful symmetrical patterns. The kaleidoscope is equated as a metaphor to many conditions: change, order evolving from chaos, and the process of creation itself.
Here you will discover artworks in continuous creation before your eyes, an investigation on different ways of expanding consciousness through diverse approaches of techniques and materials.
Think of yourself seeing and become conscious of the moment. Leave rationality behind and allow yourself to be inspired, evoking deep emotions and sensations. It's a call for the awakening of a sensibility which ordinary life usually keeps us apart. By provoking the senses, each visitor will have their own subjective experience, where the meaning is as individual and distinctively different as a fingerprint or iris.
Different laws of vision are used to bring objects into existence. Alan Sastre and José Alcañiz's paintings create virtual spaces, imaginary landscapes based on the principles of perspective and generate powerful optical illusions. Using the abstraction in forms and composition to produce the effect of perceived distortion and alternative reality.
When we look into a kaleidoscope, there is somehow a response of body, mind, and spirit. We see and think about what and how we are seeing, and feel that there is more to the image and experience than meets the eye.
The three dimensional artworks of Adeline de Monseignat, Ayuko Sugiura, Miyuki Kasahara, Yvone Khoo and Steven Morgana bear this deep significance that you feel but is hard to express in words.The sculptures created by Adeline de Monseignat and Miyuki Kasahara reproduce the sensation of synaesthesia. You can touch and hear with your eyes. The viewer is placed in the centre of an experience engaged to unfold the interrelatedness of all forms and sensations. Where there was at first oddness and division, apparent chaos, there emerges integration, similarity and an organic unfolding.
Immersive light installations created by Iyvone Khoo and Ayuko Sugiura are a feast for the eyes. They transform according to the spectator's point of view. Light dances and reconstructs space as it lies on different materials, familiar objects and even the body becomes a surface for projection.
At a first glance, Steven Morgana's sculpture attracts attention to its movement and aesthetics, but it goes beyond the physical first impression and opens up into a conceptual space where Art History and the viewer meet. 'Sphère-trame' references the 1960's kinetic artists, Groupe de Recherche d'Art Visuel. Steven's sculpture is handcrafted from steel removed from metal fencing used as movable barriers during manifestations, recycled materials that reference and almost touch History itself. It investigates this analogous relationship and carries over different level of meanings.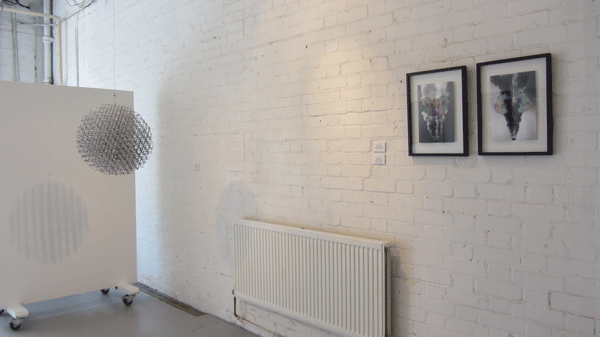 The kaleidoscopic nature of the artworks presented in the show demonstrates our inner necessity to create and reflect the unfolding growth in our lives and the world. Art, like a kaleidoscope, demonstrates our urge to express the transcendental inner elements that wish to speak a universal language whose motifs and symbols are part of a unifying human heritage. It reminds us of the interdependence and interrelatedness in life, a deep connection that can only be expressed metaphorically since it's incommensurable to rationality.
It is a foundation for a widening of the human perceptual horizon and broadening of thought and understanding. Activating new realms of the mind to see the world with new eyes and bring to life the awareness that there are as many realities as there are points of view.
Manoela Bowles & Robertta Marques